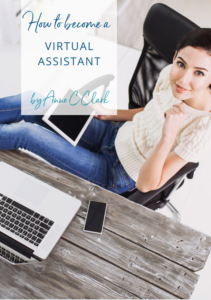 Wondering how to become a virtual assistant, or setting up your own virtual (online) business? This ebook is for you.
I started my business 8 years ago. In reflecting on my journey I would preferred to have done it differently, and encourage others to do it this way too. I have created this ebook sharing my experiences and tips on starting your own business the right way. I hope throughs this book it enables you to eliminate self doubt, and any insecurities you may feel in starting your own virtual business.
Creating a virtual business can be anything from virtual assistants, copywriters, bloggers, graphic designers, email strategists, social media managers, online content managers, website designers and soforth.
Many high-profile entrepreneurs use virtual teams, staff working from locations across the globe. For example, I work for people in Hawaii, Canada, United Kingdom and Australia as either part of a team, or as the sole support depending on the entrepreneurs needs.  Yes, you can do this too.
"How to become a Virtual Assistant is a fantastic resource in getting started as a Virtual Assistant. It has clear, easy to follow exercises that will set you on the right path and it is packed full of Anne's years of experience and wisdom as a leader in this industry. I wish I had this when I started out!" Kim Pridgeon, The Green VA
This ebook is more than both informative and contains exercises to help you gain the clarity on where you want your virtual business to go. The content convert are:
What a virtual business is
Understanding your WHY
Identifying your skills, strengths and weaknesses
Being clear on who you want to work for
Understanding what your target market needs and wants are
Registering your business
Creating your branding (colours, logos, website)
Marketing your business
Social Media
Networking (where, who and how)
Business systems (the tools you can use in your start up phase)
Your legal requirements
How to land your first client
What to charge
How to follow up clients
Communication
After you have completed this book and if you have any questions, then please know my door is open and don't hesitate to contact me.
I originally bought this ebook and loved it. I wanted more. When I started my business, I was experiencing major overwhelm. I am so glad I crossed paths with Anne. Anne is amazingly knowledgeable and very experienced in her own businesses. She has challenged and pushed me which has led me to success in my own business. I absolutely love working with Anne, and I look forward to our weekly calls because they are truly so invaluable to me personally and my business. I cannot recommend her highly enough. Mandy J
Anne's experience and knowledge is invaluable. Using this guide has helped me get clear on who I want to work with and start my business the right way.   Jenny R